Bernardo panel saw Topcut 3200 ER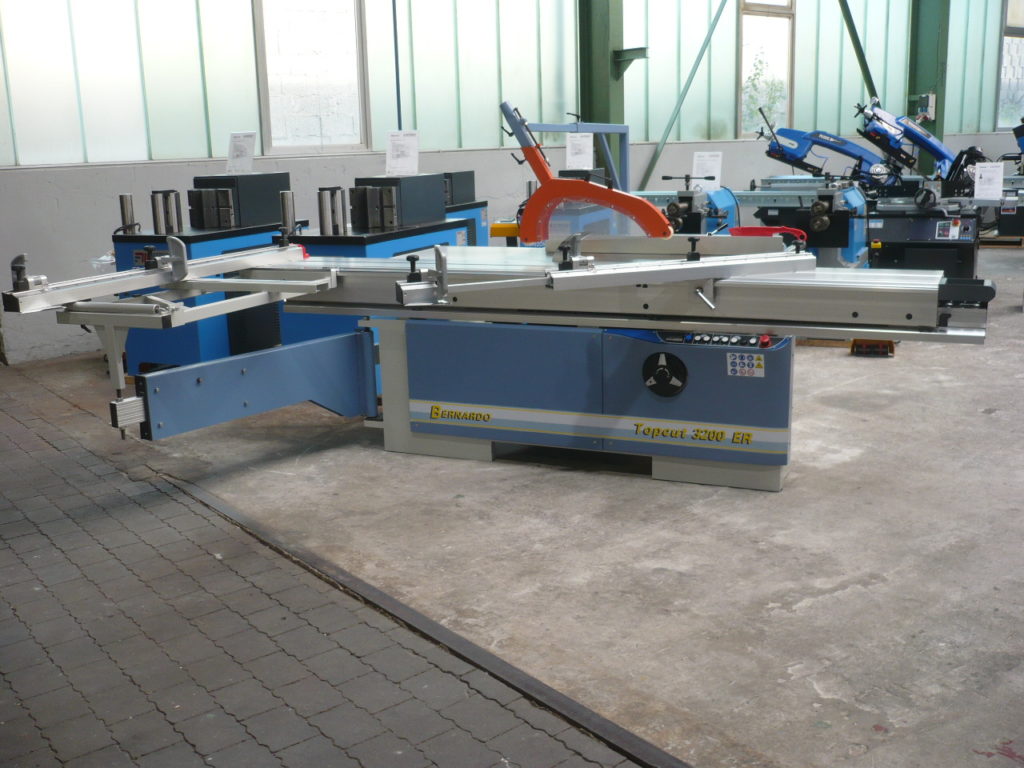 Location:
Lager Mudersbach
Description
Bernardo panel saw Topcut 3200 ER
Construction year. 8/2020
Technical specification
Table dimensions 1100 x 735 mm
Format table 3200 x 400 mm
Trimming length 3200 mm
Max. saw blade diameter 400 x 30 mm
Max. cutting height 90° / 45°125 / 88 mm
Cutting width at the rip fence 1300 mm
Table height 890 mm
Table extension 600 x 615 mm
Table extension 825 x 750 mm
Outrigger table with roller 1240 x 860 mm
Speed of main saw blade 3000 / 4000 / 5000 rpm
Speed of scoring saw blade 8000 rpm
Scoring saw blade 120 x 20 mm
Suction connection Ø 100 mm
Motor output power S1 100% 5.5 kW (7.5 HP)
Motor input power S6 40% 7.5 KW (10.0 HP)
Scoring motor power 0.75 kW
Voltage 400V
Machine dimensions (W x D x H)
3420x3600x1610mm
Weight approx. 850 kg
scope of delivery
Electric saw blade height adjustment
Digital cutting height display
Saw blade protection cover with inlet roller
Miter gauge
Eccentric tensioner
Table widening
Extendable telescopic stop
Longitudinal stop flaps
Outrigger table with roller
Push stick
Scoring unit with independent motor
Operating tool
Characteristics
Powerful drive motor (5.5 kW) with high torque, designed for optimal cutting performance
Smooth-running double roller carriage with center and end position locking for precise cuts
Maximum saw blade diameter 400 mm for cutting heights up to 125 mm
Outrigger table with roller for simplified handling of larger workpieces
Foldable rip fence with micrometric fine adjustment (advantage for large panels)
Standard with separately driven scoring unit (motor power 0.75 kW)
Stable saw unit with swivel elements made of gray cast iron on both sides
Table extension for cutting widths up to 1300 mm included in delivery
All aluminum parts (format table, stops, etc.) are anodized
Extendable telescopic stop (up to 3200 mm) on the boom table at the front and rear
Changes and errors in technical data, information and prices as well as prior sale possible!