engine Hole punch PEDDINGHAUS FORAX 25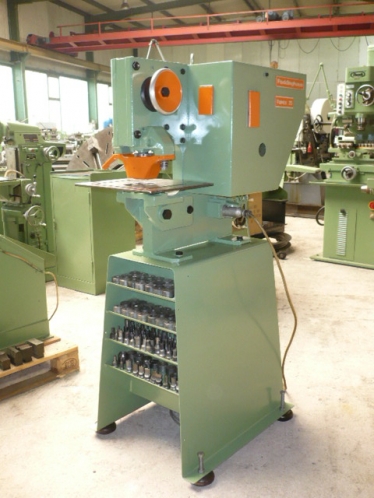 Manufacturer:
PEDDINGHAUS
Location:
Lager Mudersbach
Description
engine Hole punch PEDDINGHAUS FORAX 25
Pressure capacity 250 KN
punches eg up to 27 mm Ø in 7 mm steel
or up to 16 mm Ø in 12 mm steel
with special punching saddle up to 39 mm Ø in 5 mm steel
up to 58 mm Ø in 3.5 mm steel
Number of strokes 72 rpm
projection 200 mm
Installation height 280 mm
Drive 400 V / 1.5 kW
Space requirement approx. W 650 x H 1550 x D 1100 mm
Weight approx. 300 kg
grain detector,
support table
steel pedestal
lots of various punches with dies
Changes and errors in technical data, information and prices as well as prior sale possible!