PILLAR DRILLING MACHINE IBERDRILL BC-50 VE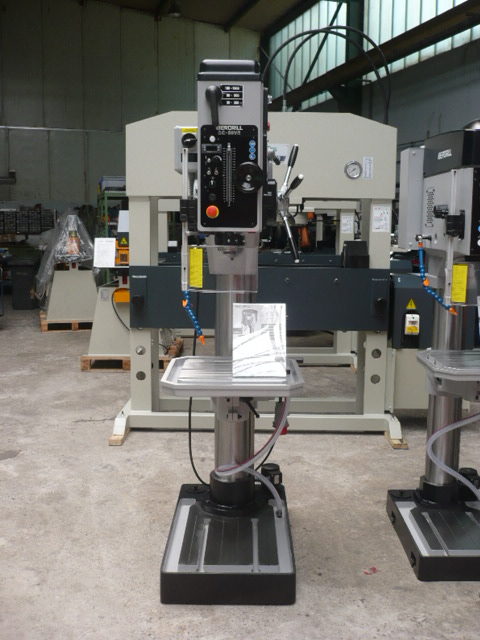 Location:
Lager Mudersbach
Description
PILLAR DRILLING MACHINE IBERDRILL BC-50 VE
TECHNICAL DATA - STANDARD
max.drilling capacity for steel (St 60) with continuous capacity S1 Ø 50 mm
max.drilling capacity for gray cast iron (GG 20) with continuous output S1 Ø 60 mm
max. for steel (St 60) with continuous power S1 M 42
max. for gray cast iron (GG 20) with continuous output S1 M 50
Tool holder in the MK 4 spindle
max.spindle stroke (drilling depth) 200 mm
Motor power spindle 4 kW
Drive 3-speed gearbox and V-belt
Infinitely variable speed adjustment via potentiometer
Speed range for 50 Hz motor,
n = 1,500 rpm 30-300; 90-900; 190-1,900 rpm
Automatic or manual feed
Number of automatic feeds 4 gears
Automatic feed range 0.1-0.2-0.3-0.4 mm / rev
Table dimensions (width x depth) 550 mm x 550 mm
Column diameter 175 mm
Distance spindle center / column 360 mm
Machine weight net / gross 760 kg / 850 kg
Dimensions Transportv. (Length x width x height) 2.4 mx 0.7 mx 1.3 m
STANDARD EQUIPMENT / BASIC MACHINE
Transmission with quality gears and automatic oil pump lubrication
and V-belts
3 gears can be preselected via 1 lever on the front
3 speed ranges with stepless speed adjustment by means of a frequency converter
digital speed display integrated in the front panel
4 automatic feeds
electromagnetic clutch
ergonomic 4-way handle cross with integrated feed buttons
Hand wheel for fine manual feed
Scale with adjustable drilling depth, automatic tool ejector
movable, rotatable and tiltable work table (type MGI)
Machine base plate with machined support surface, T-slots and integrated coolant device
automatic feed reversal when thread cutting
integrated lighting, EMERGENCY STOP button
Chip protection device with microswitch monitoring
thermomagnetic motor protection, switching electronics in the low-voltage range
Color RAL 7004 (signal gray), RAL 9011 (graphite black)
Documentation, operating and maintenance instructions
Changes and errors in technical data, information and prices as well as prior sale possible!