Bernardo universal lathe Titan 660 x 2000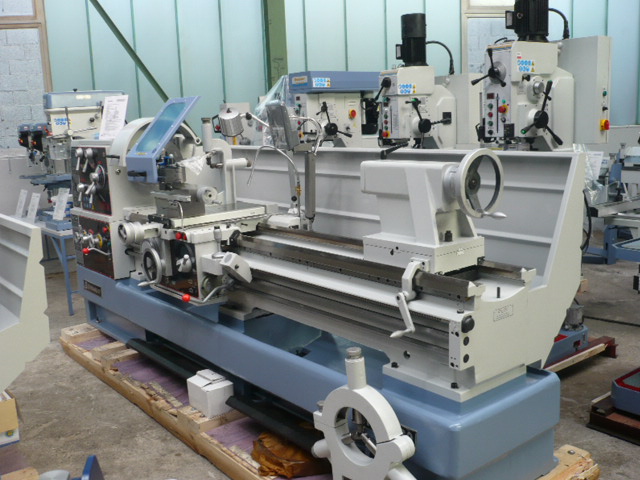 Location:
Lager Mudersbach
Description
Technical specifications
Distance between centers 2000 mm
Center height 330 mm
Circumferential diameter over bed 660 mm
Circumferential diameter over cranking 900 mm
Circumferential diameter over cross slide 460 mm
Bed width 400 mm
Spindle bore 105 mm
Spindle mount DIN 55029, D1-8
Speed range (16) 25 - 1600 rpm
Longitudinal feed range (25) 0.044 - 1.48 mm / rev
Range of face feeds (25) 0.022 - 0.740 mm / rev
Metric threads (54) 0.45 - 120 mm
Inch thread (54) 7/16 - 80 Gg / 1 ″
Quill diameter 90 mm
Quill travel 235 mm
Quill mount MK 5
Motor output 7.5 kW (10.0 PS)
Machine dimensions (W x D x H) 3630 x 1200 x 1520 mm
Weight approx. 2900 kg
characteristics
Versatile application possibilities in general mechanical engineering, production, individual part production, ...
Central, handy switching for feeds and threads with lead and pull spindle
Gray cast iron prism bed, inductively hardened and precision ground
Modern main spindle bearing with angular roller bearings in precision design
Hardened and ground gears and shafts, also in the feed gear
Standard with rapid traverse lengthways and flat to reduce non-productive times
Large spindle bore (105 mm) for workpieces with a large diameter
Soft start through the mechanical multi-plate clutch
Electromechanical foot brake to reduce idle times
Best machining performance even when facing
To stiffen the bed guide and to minimize the effects of vibrations, the bed was provided with strong ribs
scope of delivery
3-axis digital display ES-12 V with LCD display
Slip clutch
Rapid traverse lengthways and flat
LED machine light
3-jaw steel chuck PO3-315 mm / D8
Clamping disc 450 mm
Fixed bezel - passage diam. max. 180 mm
Revolving steady rest - passage diam. max. 120 mm
2 center points
Motor with magnetic brake according to CE standards
Foot pedal with brake function according to CE
First filling with Shell Tellus 46
Coolant device
Quick change tool holder with 4 inserts
Protective device for quick-change tool holders
Change gears
Reducing sleeve
Chip back wall
Cable routing via energy chain
Operating tool
Changes and errors in technical data, information and prices as well as prior sale possible!